5 signs that supply chain pressures may be easing
2022 was supposed to be the year that supply and demand within the economy moved closer to balance. At the year's onset, widespread vaccination efforts poised workers to return to factories and restore production levels, U.S. consumer demand began to ease, and businesses feverishly sought to replenish inventories to pre-COVID levels.
Then, Russia invaded Ukraine and China's zero-COVID policy led to the shutdown of large port cities such as Shanghai.
As a result, the supply chain challenges have persisted for longer than originally expected.
So, are supply chain challenges easing? In short, yes. But not as quickly as hoped. Here are five positive indicators:
1. Surveys of manufacturers are improving
A survey of approximately 300 supply management professionals reveals that respondents are still experiencing backlogs on orders for everything, from apparel and wood products, to machinery and paper and chemical products. However, while the latest survey results suggest that backlogs are still elevated, the number of respondents reporting "greater backlogs" has been trending lower since mid-2021.1 Similarly, a survey asking supply management professionals if they are experiencing slower delivery times showed that times are down meaningfully from last summer, but they aren't yet fully improved.2
2. Shipping logjams are waning
At the beginning of the pandemic, photos of logjams at U.S. ports had become emblematic of supply chain challenges. Over the past few months, there has been marked improvement.
For example, six months ago, the Port of Los Angeles tallied 25 ships that were either anchored to load or discharge cargo or berthed (which is the nautical equivalent of a waiting room). Since then, the number of ships anchored or berthed at this same port has fallen to five, which is still above the long-term average but represents substantial progress.3
In addition, the price of transporting raw materials by sea, as represented by the Baltic Dry Index, has fallen by over 50% from its peak.4 (However, the index has trended modestly higher since Russian forces entered Ukraine.)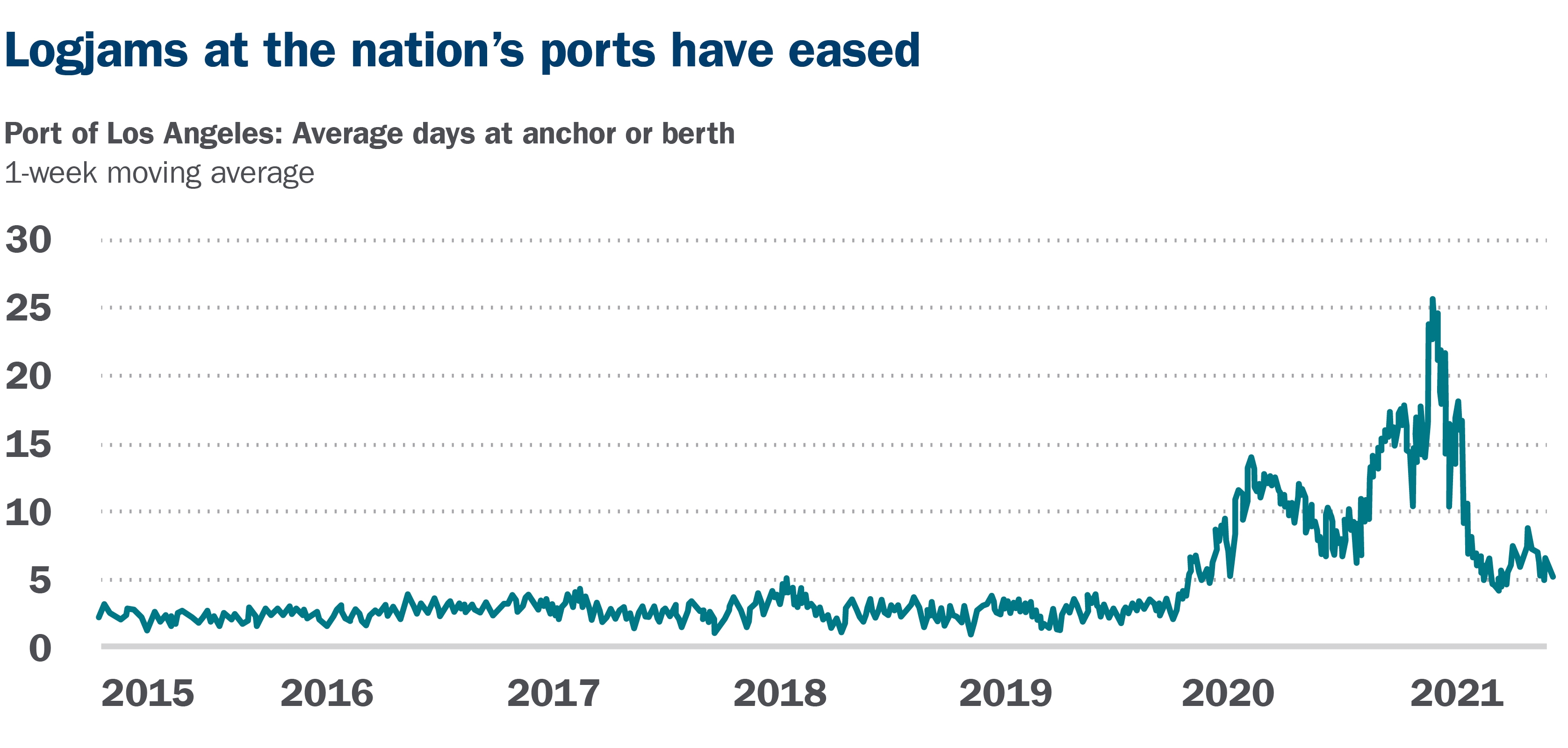 Source: MacroBond, 6/6/22
3. Retailers are reporting higher inventories
Many of the nation's larger retailers, in this quarter's earnings calls, reported a rise in inventories. Additionally, the inventory-to-sales ratio at the nation's retailers rose from a post-COVID low of 1.08 to 1.16 in the last reading, suggesting that retailers are recognizing improvements in securing goods.5 As with most supply chain metrics, the inventory-to-sales ratio is not yet at the historical average but is improving.
4. Truck drivers are in transit
For all the talk of the Great Resignation, the labor force participation across all age cohorts from 15 to 54 have returned to their pre-COVID levels.6
Specifically, the concern over a national truck driver shortage never came to fruition. In fact, the U.S. now employs a record number of truck drivers, indicating that businesses are hiring workers to help in transporting parts and final goods to their ultimate destinations.7
5. China is loosening pandemic restrictions
China appears to be relaxing some of its more stringent zero-COVID policies, most notably in Shanghai, which is home to the world's busiest port.8 However, the COVID situation is fluid and warrants close monitoring.
Bottom line
Supply chain challenges remain but much progress has been made in recent months. We expect many of these challenges to further ease as U.S. consumer demand moderates and the economy slows. If you have any questions about how current developments in the markets or how the economy will affect your personal financial situation, reach out to Ameriprise financial advisor associate Vice President, Peter Weinbaum 770.497.5755 https://www.ameripriseadvisors.com/peter.weinbaum/
Article by: Brian Levitt, Global Market Strategist – Invesco
Contact

Ameriprise Financial Services LLC – Peter Weinbaum
Someone will reach out to you soon!
We respect your privacy and will never spam or sell your information.